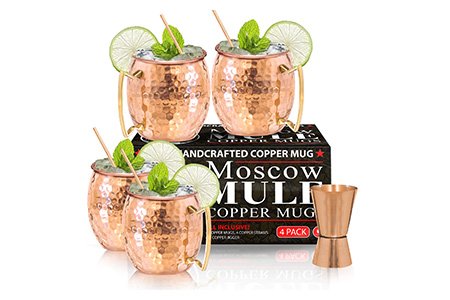 Moscow Mule Copper Mugs
In stock
Price: 36.00 £
Type: Moscow Mule Copper Mugs
Size/Volume: 930 g
Country Of Orgin: US
Brand: A29
Strength: -
There is more to what makes a cocktail great. After all, it is not just alcohol mixed together with your go-to mixer. In reality, cocktails are meant to heighten your senses through exquisite aromas, flavors, and presentation.
Whether or not you have tried the Moscow Mule recipe, hearing its name certainly comes with an appeal.
But don't you know what makes this mixed drink a work of art? The secret lies in the copper mug. And if you are discerning drinker like you, there is a reason why the Moscow Mule Copper Mugs is quite popular these days.
Features To Look At Moscow Mule Copper Mugs
Stunning Craftsmanship – The Moscow Mule Copper Mugs have its craftsmanship rooted in the 1940s, the year when proper presentation in drinking started to become a thing. You can impress your family and even friends with its top-notch design, especially since it is embossed with filigree and flowers.
Great Temperature – If you are wondering about the most scientific benefit of this copper mug, it is none other than the temperature. History states chilled drinks served in copper cups offers an added cool sensation. This is simply due to the metal that quickly takes on the icy temperature. You would instantly notice that the mug has become so chilly that it seems to have a frozen sensation on your lips.
Long-Lasting Shine – The Moscow Mule Copper Mugs are equipped with a specialized protective coating, allowing them to preserve their brilliant shine for many years to come. Even more so, it enables the mugs to reduce the possibilities of black spots, oxidation, and staining.
Improve Your Drinking Knowledge – Believe it or not, this one comes with a 35-page eBook that has 20 unique and must-try recipes. Plus, you can enjoy them alongside two straws or stir sticks made of copper. Above all, they are completely free!
Why You Should Buy Moscow Mule Copper Mugs
Apart from the aforementioned features, the most interesting reason you should consider the Moscow Mule Copper Mugs is the experience you get from them. You cannot just enjoy a martini using a typical glass vortex. The same thing can be said for any well-made drink.
Yet, these copper mugs are more than just anything mentioned above. You can wow your guests or friends during celebrations, or even gift them for weddings. The best part is that they come with a one-year trusted warranty.
If you order today, which you can do here, you will be glad you did.